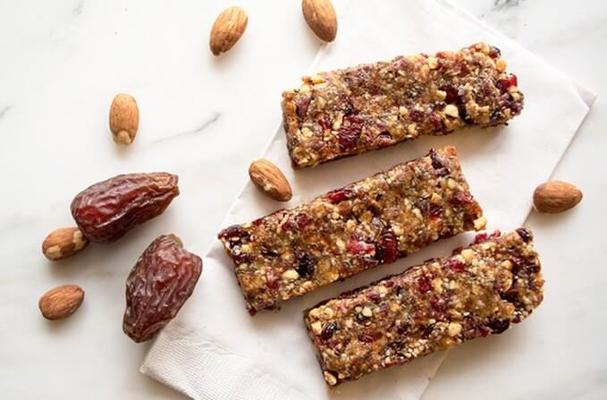 ALL DAY GRANOLA ENERGY BOOST BARS
Serves you and baby / Preparation: 10 minutes / Freeze: Yes
1 cup of ground almonds
3 cups of mixed nuts and seeds
1 cup of dried cranberries
1/2 tsp vanilla essence
1/4 cup of honey
1/4 cup melted coconut oil
1/2 organic grass fed butter
Benefits:
These all day energy boost granola bars are perfect for breakfast or any time of day when you need a pick me up but don't have a spare hand to prepare a meal.
Packed full of protein and good fats without any added refined sugars to keep you fuller for longer.
These granola bars are so easy to make. No cooking required! Make a batch and put them in the cupboard for when hunger strikes.
Put the mixed nuts and seeds in to a blender and blitz to break them up in to smaller pieces.
In a large bowl, add the ground almonds and the dried cranberries to the nuts and seeds and mix well.
In a pan, melt the butter and add the coconut oil, honey and the vanilla essence.
Pour the warm mixture in to the bowl of nuts and cranberries and mix well.
Cover a baking tray with grease proof paper and pour out the mixture
Press the mixture down well and leave to stand for 1 hour
Put the tray in to the freezer until ready to enjoy.
Slice up the granola in to bars with a flat bladed knife.