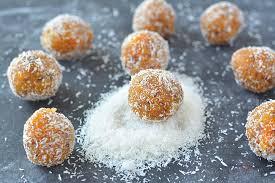 APRICOT ALMOND CRUNCH BALLS
Serves you plus 2 / Preparation: 10 minutes / Freeze: Yes
200g whole almonds
100g dried apricots
1 tbs of honey
4 tbs or desiccated coconut for decorating
Benefits:
Simple tasty healthy snack for Mums on the go and toddlers too.
Packed full or protein and vitamin C from almonds and apricots with no added refined sugar.
Apricot Almond Crunch balls are a great source of protein and vitamin C and will fill you up whilst maintaining your blood sugar levels to stop your cravings for sweet naughty things.
Put all the ingredients apart from the desiccated coconut) in to a food processor and blitz leaving the nuts in chunks.
Separate and roll in to small balls (smaller than golf ball size)
Roll each ball in the desiccated coconut until covered all over
Put the balls in to a plastic container and store in the fridege until snack time!