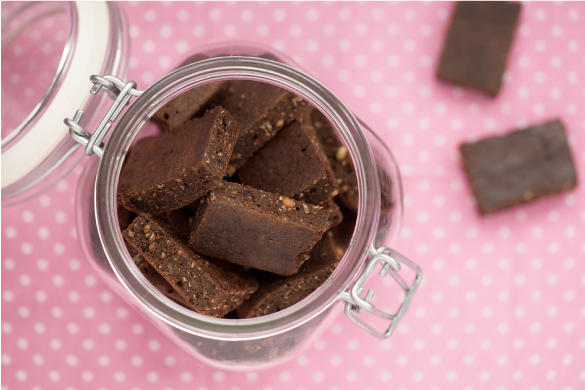 COCOA SEEDED CRUNCH WITH CINNAMON
Preparation: 10 minutes / Cooking time: 25 minutes / Freeze: Yes
Serves you and baby
1 cup of mixed seeds
1 cup of ground almonds
½ cup of melted coconut oil
½ cup of organic honey
1 tsp vanilla
2 tbsp unsweetened cocoa powder
1 tsp cinnamon
Benefits:
Suitable for babies from 10 months and beyond
Just 1 tablespoon of unsweetened cocoa powder contains 3 to 9 percent of the recommended daily intake of iron, manganese, magnesium and zinc.
Cocoa seeded crunch is a great alternative to chocolate without the refined sugar and saturated fat. It will definitely satisfy your cravings and is perfect for mum with a cup of peppermint tea.
Preheat the oven at 190 Deg C
Melt the coconut until it is in liquid form.
Mix all the ingredients well in a large bowl.
Pour the mixture on to a large baking tray, flatten out with a knife and place in to the oven for 25 minutes.
Remove the baking tray from the oven and allow to cool.
Cut the cocoa crunch in to portions and keep in an air tight container but save a piece for now.