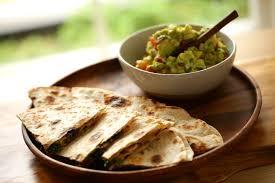 EASY GUACAMOLE WITH GRAM FLOUR CHIPATTI
Serves you and baby / Preparation time: 10 minutes / Freeze: No
4 ripe avocados seeded peeled,
cut in to chunks
1 tbsp. lemon juice
½ small sweet white onion minced
1 ripe juicy tomato diced
200g gram flour
Warm water to make a dough
1 knob of coconut oil
Benefits:
Suitable for babies who are weaning and beyond
Gram flour is made from chick peas and is rich in protein and fibre.
Avocados are high in monounsaturated fat which is one of the good fats known to aid weight loss.
Guacamole makes a tasty snack or light meal when served with a gram flour chapatti which can be cut in to finger food for baby.
Mix the gram flour and water in a mixing bowl to make a dough.
Split the dough in to small balls and then roll flat with a floured rolling pin.
Heat a knob of coconut oil in a frying pan and cook the chapatti for 2 minutes on each side until browning and then set aside.
Mash seeded and peeled avocados in a bowl with the lemon juice.
Gently stir in remaining ingredients except the tomatoes.
Separate a small bowl of guacamole for baby then top the larger bowl with chopped tomatoes and serve immediately with the chapatti.