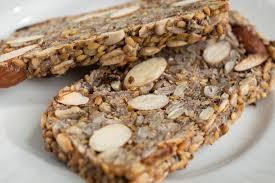 MUMMYFIT LIFE CHANGING BREAD
Serves you and your family / Preparation: 10 minutes / Freeze: Yes
1 cup of sunflower seeds
1/2 cup of flax seeds
1/2 cup of whole almonds
3 cups of organic rolled oats
2 tbsp of Chia seeds
1 tsp of sea salt
1 tbsp of honey
3 tbsp of melted coconut oil
1 cup of water
Benefits:
This quick and easy bread recipe if rich in protein, fibre and healthy fats and does not contain any refined sugar. Life Changing Bread is also wheat free and gluten free.
If you are a bread addict 'Life Changing Bread' could literally changed your life. It is full of good fats and fibre unlike a process slice of bread and is wheat and gluten free so will not cause bloating. Give it a try!
Mix all ingredients in a large bowl to make a stiff dough.
Grease a loaf tin with coconut oil.
Pour out the dough mix in to the loaf tin and level off with a knife and allow to rest for 2 hours.
Pre heat the oven at 160 deg C
Place the loaf tin in the middle of the oven and allow to bake for 20 minutes.
Remove the loaf time from the oven and remove the loaf from the tin and place upside down directly on the oven rack and allow to bake for another 30-40 minutes.
Let the bread cool completely before slicing.
Store your bread in an air tight container or wrap in foil. It probably won't last that long!