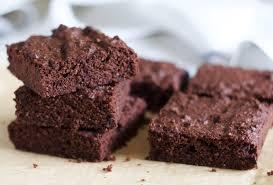 YUMMY PALEO BROWNIES
Serves you and your family / Preparation: 5 mins
1 large bar of 85% organic dark cooking chocolate
1 cup of almond flour
1/3 teaspoon of baking powder
6 dates stoned and chopped
3 eggs
1/3 cup of coconut oil melted
A handful of fresh rasberries and desiccated coconut for decoration
Benefits:
Suitable for all the family
Yummy Paleo Brownies are only sweetened by dates and do not contain any added refined sugar. Made with almond flour, they are also a good source of protein making them a yummy treat for all the family full of chocolaty goodness.
Yummy Paleo Brownies
Blend the almond flour and baking powder along with the dark chocolate in to a sawdust type texture
Add the eggs and the melted coconut oil and blitz
Pour the mixture in to bun cases in a bun tray to make 12 brownies
Bake in the oven for 20 minutes at 190 Deg
Take out of the oven and decorate while still warm with the rasberries and dessicated coconut and allow cool for 30 minutes
Enjoy!